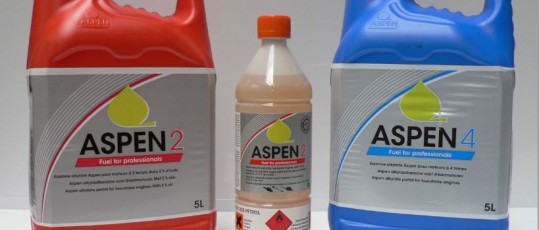 Aspen – A Safe and Clean Fuel for your Garden.

Tidying up in the garden is something that most homeowners look forward to each spring and summer. Make things simple by using the correct fuel for your machine and this will benefit you throughout the whole year. You get excellent benefits from using Aspen alkylate petrol for your lawnmower and other motorised garden tools like ride-on lawnmowers, strimmers, chainsaws and hedge trimmers.
Aspen alkylate petrol is a significantly better, more eco-friendly alternative to ordinary petrol. It is up to 99% cleaner than ordinary petrol when it comes to volumes of hazardous hydrocarbons. In principle, alkylate petrol contains no harmful substances, such as the benzene, sulphur and aromatic hydrocarbons that are present in ordinary petrol. Since alkylate petrol consists of only a few pure and selected components, it keeps engines clean and also reduces the risk of engine breakdowns.
When the next gardening season draws near, you can be calm in the certainty that your motorised garden machines will start up easily. And if you have a few litres left in your tank from last summer, you can get straight to work. It could hardly be any smoother. And all the better because you have done the environment a favour too.
In contrast to ordinary petrol, Aspen alkylate petrol doesn't lose it's quality over time and is non-corrosive to the inner workings of the engine material.
About Aspen:
Aspen is a Swedish world-leading brand of specialist fuels. Aspen offers the fuel for most petrol-driven small engines within every field from horticulture and forestry, to boating and snowmobiles. Aspen wants to make it easy for professional users and for private individuals to make a difference to the environment.
CPH are stockists of Aspen and use it for all machines on our garden equipment hire fleet and recommend it to be used for any garden equipment we sell.