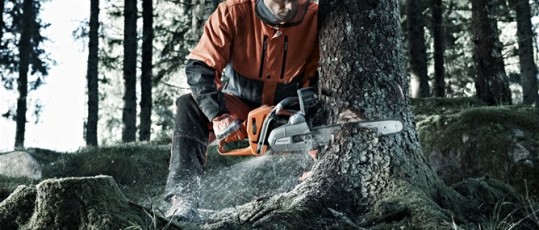 A chainsaw can be a dangerous tool. It is important to be aware of the dangers involved in using a chainsaw. Below you will find information on the safe use of chainsaws that will help avoid injuries such as this horrific one in Pennsylvania earlier this year.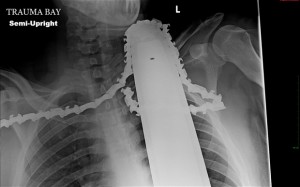 *Chainsaw Embedded In Tree Surgeon's Neck
A tree trimmer is lucky to be alive after an accident sent a chainsaw blade several inches into his neck and shoulder. James Valentine, a 21-year-old from Pennsylvania, was part of a crew pruning trees when his chainsaw suddenly kicked back and the blade sliced into him.* (Source: SKY NEWS, April 2014)
Important information to know before using the Chainsaw
The chainsaw is designed for use by right handed operators and must be used in a right handed manner. The right hand should be on the throttle with the left hand holding the handle, with the left thumb under this handle at all times.
Make sure that you know where the controls are located, you understand their function and they are in good working order. You may have to stop the chainsaw quickly in an emergency.
Make sure that the chainsaw is properly maintained. In particular, ensure that the air filter is clean, the engine properly tuned and that the chain is correctly sharpened.
To prepare to start the engine, hold the saw firmly in position at ground level on a level surface by putting the right foot on the handle and making sure the chain is clear. Hold the front handle with the left hand and pull the starter cord with your right hand.
Apply the chain brake when the chainsaw is not cutting, this is done by letting engine revs drop to idle and applying the chain brake with the back of the left hand, by rolling the hand on the front handle.
Never use the chainsaw above shoulder height or when off balance.
Chainsaws should never be used when standing on a ladder, unless the operator is a trained tree surgeon and the ladder is securely tied in position.
Chainsaw operators should always be alert and aware of potential dangers.
Do not use a chainsaw if you are tired.
Chainsaws are designed for one person operation only.
Maintain a safe distance from other persons i.e. a minimum of twice the height of the tree being felled.
Containers for chainsaw fuel must be clearly labelled. Keep a safe distance from ignition sources when fuelling the chainsaw.
Avoid working alone when operating a chainsaw. If this is not possible, put in place procedures to raise the alarm if something goes wrong (for example, use of a mobile phone).
Shut off the engine before moving from one area to another. Never leave the chainsaw unattended while idling.
Safety Checks
Your chainsaw should be fitted with the following devices to ensure safe operation:
A clearly marked on/off switch.
Chain brake (incorporating a front hand guard).
Safety dead handle throttle.
Chain catcher.
Rear hand guard.
Anti-vibration mounts.
Exhaust system to direct fumes away from the operator.
Chain cover for transportation.
An adequate tool kit for preventative and corrective maintenance.
Maintenance of chainsaws
• Saws should be properly maintained in accordance with manufacturer's recommendations.
• Chainsaws should be inspected regularly by a competent person. Check the saw periodically throughout the day.
• Special attention should be paid to chain sharpening and chain tension as otherwise chain breakage can occur possibly leading to a serious injury.
Training in the safe use of chainsaws
If used incorrectly the chainsaw is one of the most dangerous pieces of equipment to use. Due to the hazardous nature of working with chainsaws it is recommended that persons receive appropriate training from a competent training provider. Alternatively, a competent person should be contracted to complete the work.
For relevant training CPH recommends David Law Tree Care – see www.davidlaw.ie
Personal Protective Equipment – PPE
Using chainsaws exposes operators to high levels of noise and hand-arm vibration which can lead to hearing loss and conditions such as vibration white finger.
It is important that suitable protective clothing and equipment should be worn when using a chainsaw, no matter how small the job. Modern personal protective equipment is easy to wear, long lasting and could prevent death or serious injury. However PPE cannot provide complete protection against cuts from chainsaws.
The following safety equipment is available and should be used
Safety Helmet, eye protector and ear defenders
Chainsaw gloves
Safety boots
Close fitting outer chainsaw clothing
Chainsaw trousers
First Aid Kit
Risk Assessment
A risk assessment should always be carried out before using a chainsaw.
Identify potential hazards in the area.
Evaluate risks e.g. Children in the area are high risk
Safety Control measures should be implemented.
Emergency procedures should be put in place before work commences eg. Mobile phone, first aid kit.
Avoid Working Alone
If there are two or more of you, you can help each other if something were to happen.
The minimum requirements on the occasions where you are working alone:
Tell someone where you will be during the day
Mark on the map where you are, also mark the route, and give the map to your contact person
Always carry a mobile phone or communications radio
Keep in regular contact with your pre-designated contact person, at least every three hours
Always have a transport vehicle in the forest
Always park the vehicle so that you can quickly leave the area
Observe all other safety procedures carefully
(See more Health and Safety information at hsa.ie)
To learn more about the correct and safe use of chainsaws, there is an Oregon Chainsaw Clinic hosted by the Husqvarna Centre Charleville on December 2nd at 7pm at the Charleville Park Hotel. The event is free admission. On the night, experts from Husqvarna Ireland will speak about chainsaw health and safety and demo some of the best products on the market. Vouchers for free chain sharpening will be available on the night to all attendees as well as a raffle for a prize of full PPE outfit worth €500.
Head speaker Andy Walsh is after sales manager with Husqvarna Ireland and has 35 years of experience in the forestry industry as a specialist technician.
Contact CPH on 063-81827 for more.