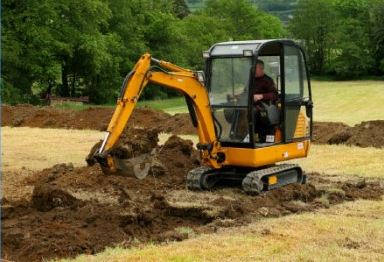 Mini Excavator Safety Tips
From digging a fish pond to transplanting trees, a mini excavator is a great option for DIYers ready to make big changes to their outdoor space. For some, operating a piece of machinery like a mini excavator can be intimidating. However, with the right knowledge and adherence to safety procedures, a mini excavator can help move your project along and create impressive results.
Before operating a mini excavator, read the user manual and remember these 5 safety tips:
• Get the right gear: Protective equipment such as hard hats, steel-toe boots and dust masks are important to have.
• Do not work under the mini excavator when it is raised.
• Survey your work area. Make sure that all people and animals are clear before and during use of a mini excavator.
• Ensure that underground utility lines are properly marked, contact ESB networks or Gas Networks Ireland. Do this at least 2 days prior to beginning your project to avoid utility line damage.
• Don't lift a load heavier than the designated Safe Working Load (SWL). This could cause your machine to become unstable.
For more safety information and tips about working with mini excavators contact CPH today.
Click the following link for a HSA Code of Practice for Avoiding Danger from Underground Services while digging. 

HSA Link