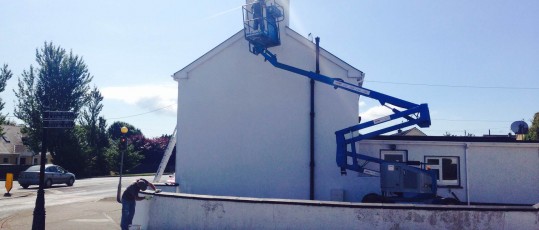 What are Boom Lifts and what can I use them for?

Life is too short for unfortunate accidents that can be easily avoided with the right equipment and machinery. There is a steady rise in home renovations in Ireland and as well builders and contractors, the DIY warriors have begun to lean towards hiring boom lifts to reach those tough jobs at great heights.  Because of its mobility, both DIY enthusiasts and contractors use boom lifts for all kinds of tasks when ladders just won't do. A key benefit to a boom lift is how safe it is. It minimizes the risk involved when working at height.
Boom lifts are known more commonly as cherry pickers, originally getting their namesake for being a popular tool amongst fruit harvesters. The boom lift can elevate you to heights of 60ft in the air, depending on the job you are doing, and the model you select.
Also known as aerial work platforms (AWP), elevated work platforms (EWP), or mobile elevated work platform (MEWP), the boom lift makes the unreachable reachable and provides an access to the inaccessible.
What can I use a boom lift for?
The multi-talented boom lift can be used to tackle a multitude of DIY jobs like exterior painting, power-washing buildings, and cleaning gutters. If you need to replace a satellite dish, or you're replacing some slates on the roof, the boom lift gives convenient access, and cuts down on time spent dangling from the gutters.
Trimming trees is made easy and adjusting or installing lights can be accomplished without danger to self. Boom lifts are predominantly used in the roofing and construction industry, but even local GAA clubs benefit from the boom lift for goalpost and net repair.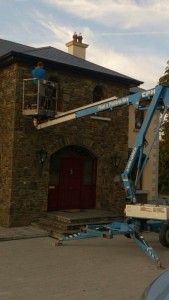 Tips for DIY user: Plan a number of jobs to do with the machine.
Boom lift hire can be expensive for one off jobs. CPH recommends that you plan the work you need to have done and do it all while you have the machine on hire.
There is a vast amount of jobs that can be done using a boom lift so take full advantage and get all those jobs you want done while you have the chance. Doing this makes the boom lifts great value for money.
At CPH we have a wide range of machines (boom lifts up to 60ft) in all the top brands to suit the jobs you need doing and we have experts in the area to provide advice on what you need and how to use the relevant machine. There is also training available at CPH on how to operate and run the boom lift safely, maximizing the use of your hire.
To see examples of boom lifts or to enquire about what machine you might need, click our hire section

here

or contact CPH today

here